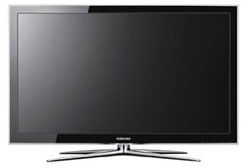 I am just about ready to jump on the 3D TV bandwagon. I am waiting for screens that don't need glasses before I bite and those are probably coming soon. If you can't wait any longer, a new Samsung 3D TV has landed on Amazon.
The TV is the Samsung 46-inch LN46C750 and it has full 1080p resolution. The TV supports 3D and has a pair of 10W speakers. Other features include a wide color enhancer, and support for Skype on Samsung TV.
Amazon shows that the TVs are in stock and you can get free super saver shipping. The normal MSRP is $1,699 and Amazon is offering the set for right at $1450 today.
3D TV, Samsung