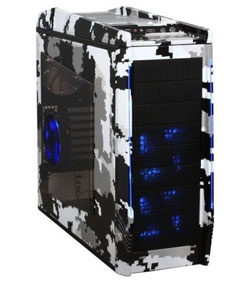 Back in November 2009, NZXT offered up the new Tempest Evo case in all black and it was nice. The case has lots of room and a great cooling system inside. NZXT has offered up a new edition of the case with a new color scheme.
The new case is called the NZXT camo Tempest Evo. It is clad in a grey, black, and white digital camo pattern on the outside. Other than the new color the case is the same Evo we saw last year.
It is made from steel and plastic and has an ATX mid-tower design. The case has three external 5.25″ bays and eight internal 3.5″ bays. The cooling system included six fans and the case weighs in at 24.69 pounds.
nzxt, PC Case