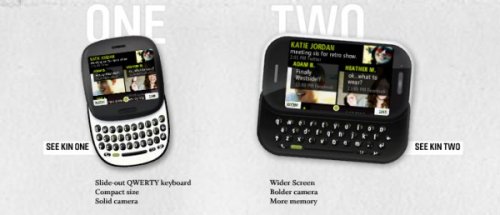 Remember Microsoft Pink? It's just been unveiled as a pair of handsets from Sharp called the Kin One and Kin Two. The devices are mostly based on Windows Phone 7, but they offer a totally different experience.
The entire user interface is custom to Kin and has a heavier social media slant, a custom browser and what's this?, no support for third-party apps. The displays support multitouch with no support for in-browser Flash or Silverlight.

Kin One is a square slider with a QVGA display, 4GB of internal storage, 5 megapixel camera with LED flash, and a full QWERTY keyboard. Kin Two has a HVGA display and a landscape QWERTY slide form factor. There's also an 8 megapixel cam and 8GB of internal storage.
Both phones have WiFi and Bluetooth and 3G cellular radios. Internal storage isn't a big deal with the Kin phones, because your photo and video collection is synced seamlessly with your online storage.
kin, Kin One, Kin Two, Microsoft, phone