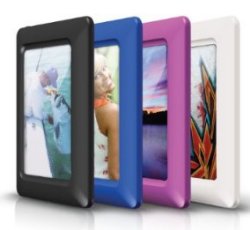 Sure, the iPad is great as a portable media entertainment system, but it also makes a great digital picture frame. So why not dress it up accordingly and have the most expensive Digital Photo Frame there is. Marware has several cases called Photoshells.
The Photoshell is a case made to look like a picture frame that accommodates 5 x 7 inch photos. The case is made from a smooth rubberized plastic. So go on and display your photos, logos and signs, whatever.

The MarWare Photoshell for iPad comes in an assortment of colors and is available for pre-order at Amazon for $39.99.
case, digital picture frame, iPad, Marware, Photoshell