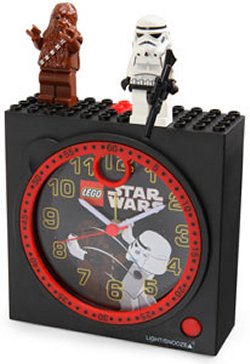 Lego and Star Wars. Two things that go great together. The latest Lego/Star Wars item is this new Lego Star Wars Alarm Clock.
This alarm clock is really created with Lego pieces. There are 21 pieces all together, along with Chewbacca and Stormtrooper mini figures. Plus you can put your own lego stuff on it as well any way you like. Put several figs on top if you want. Or all droids.

Great way to display your love of both Lego and Star Wars.
alarm clock, lego, Star Wars