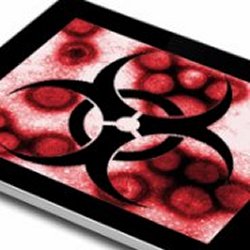 The iPad has gone viral. Literally. PC-using iPad owners have been targeted with a new virus. This one is disguised as an iTunes update that offers better "performance, newer features and security", but the download is actually malware designed to collect all of your sensitive personal information.
Identified by BitDefender as Backdoor.Bifrose.AADY, the piece of malicious code inadvertently downloaded injects itself into the explorer.exe process and opens up a backdoor that allows unauthorised access to and control over the affected system.

Some common sense can protect you very easily. Watch out for the download in a suspect email link. Mac users are unaffected for the moment, but both iPad and PC users should watch out.
iPad, iTunes, pc, virus