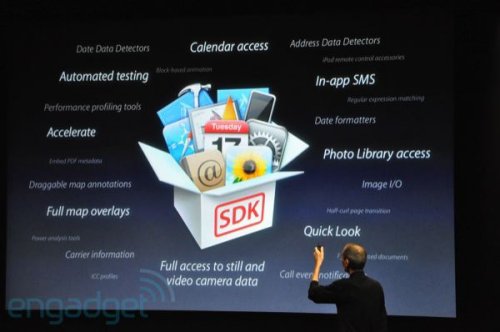 Just over a year after iPhone OS 3.0, Apple has unveiled the big revision of the OS that powers the iPhone, iPod touch and iPad. It ships this summer, and the developer preview will be available today. iPhone 3GS and new-gen iPod touch will get all the features, but some of those features won't make it to the iPhone 3G, the original iPhone, and older iPod touches. Sorry Charlie.
The biggest new feature is the multitasking, which is said to be the "best" implementation in the smartphone space. App switching is activated by double tapping the home button, which pulls up a "dock" of currently running apps, and apparently it can do this without hurting battery life or performance for the front app.

This multitasking won't be available for those devices older than the 3GS and new iPod touch though. Multitasking is just one of seven different new "tentpole" features, which include Game Center, enhanced Mail, and more.
Apple, iPhone, multitasking, OS 4.0