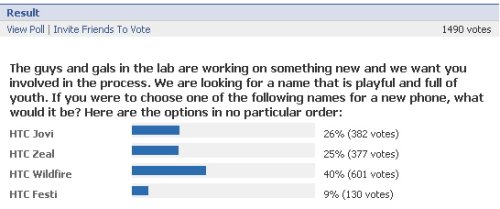 Apparently HTC can't decide on a name for their new phone. So they are asking you for help. I guess they want you to feel like you are involved in the creation process, thereby giving you a warm and fuzzy feeling.
The company's Facebook page has a poll with the four name options: HTC Jovi, HTC Zeal, HTC Wildfire and HTC Festi. Right now Wildfire is in the lead. HTC has not unveiled any additional details aboutthe handset yet.

We'll know soon enough.
HTC, HTC Festi, HTC Jovi, HTC Wildfire, HTC Zeal, name, phone, poll, vote