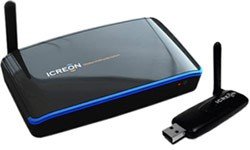 We've seen other options that connect your PC to TV without any wires, but here's one you can actually love. Hanshin's Icreon HUWB-3000Kit supports both video and audio transmissions. And setup is simple. Just plug the USB dongle into your laptop or desktop, and connect the transceiver box via HDMI to your HDTV. You're good to go.
It uses an ultra-wideband connection to send audio and video wirelessly to your TV, with support for 1080p. It's not compatible with Mac yet, and we don't have a price, but it's coming soon.

We'll let you know more when we know.
Hanshin, Icreon HUWB-3000Kit, pc, tv, wireless