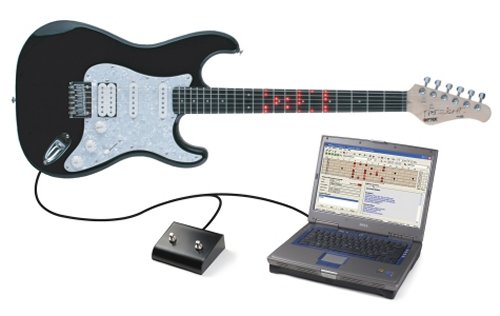 The folks who make the Fretlight guitar learning system wanted us to check it out and see for ourselves how easy it is to learn guitar with their system. The basic idea is that the frets of the guitar light up. That, along with an interactive learning system which includes videos and tutorials are supposed to make it easy.
Since my son has been learning how to play guitar by more or less teaching himself, I figured he was the perfect candidate. So they sent us the whole kit and my son checked it out. How good is it at teaching you to play the guitar? His review follows:

The Fretlight Guitar is a self-teaching system in which you can learn the guitar. The whole package comes with the owner's manual, Software installer CD, a 10-foot Fretlight-to-USB Cable, a Whammy Bar, a truss rod, two bridge saddle wrenches, and of course the Fretlight guitar. The Fretlight guitar appears to be a simple electric guitar at first glance, but as soon as you plug the guitar into the computer, the frets of the guitar light up. How? Optek Music Systems brilliantly hid LCD lights behind every fret. In the software, there are five different learning categories to choose from and the software is the most important part of the
package.
The purpose of The Fretlight Guitar is to make it easier to learn how to play the guitar. The best way to learn in my opinion is through "Take an Interactive Video ". While following the lights on the guitar, you can also listen to the video playing. When some skills are performed, such as sliding, the lights on the guitar do not exactly signify to use this skill. Counter actively, they've included a visual of the guitarist playing the same chord or rift that you are. So it's just like a live lesson, just recorded! They show a close up of the frets that you'll be pressing and a close up of how to strum the chord or rift, in case that is your problem. Also in the video window, there are tools that can be used to help you perform, like tempo or speed
control of the video. This only works when practicing a song, but that's the only time you really need it anyway. They've also included time markers in which you can set on the timeline and repeat the selected time frame.
The second best way to learn is through "Learn Chords & Scales." In this semi-interactive program, you can learn chords and scales by clicking the chord/scale picture (which lights up the according frets on the
guitar) or you can just do it old style, by looking at the picture. This is also the section to look at if you would like to read the explanation on musical theory. As an added bonus, there's a glossary of vocabulary words used throughout the program.
Two of the last studios, "Play a song" and "Improvise a Solo," are pretty hard to use, but worth it. In these sections, you can play an assortment of actual songs, such as white wedding by Billy Idol or Revolution by The Beatles, or if you want to get thrashing, Master of Puppets by Metallica. Just by listening to these songs, I know it's hard, so this program could be pretty useful. You have the basic tools like fast forward, rewind, pause, and stop, but you also have the tempo changers too. Even more selectively, there are the marker tools and some pre-selected points such as chorus 1, rift 2, and etc. On the other hand, the
most annoying parts of this whole program are these studios because you have to buy the songs in order to play them.
The last part of this program is "Purchase More Songs & Lessons," where you can, as the title says, buy more songs and lessons. There are many different artists ranging from AC/DC to U2 for $2.99 each. Lesson-wise, you can buy lessons on mostly "Advanced Rock Lead Guitar Concepts" and "Rhythm
Guitar Essentials." I didn't get to test out these additions, but I'm sure they are excellent like the lessons that I was able to do.
Now let's talk about the guitar. The guitar that I tested out was a black Fretlight FG-421 Guitar pricing at a basic rate of $349.99. That is without the N-Tune Tuner and Shelby Designs Pickup System. The other guitars they sell range from $289.99 to $699.99. This guitar is about average on their website, but it plays very well. I've owned a total of two guitars; one acoustic and a Fender acoustic-electric guitar. I've played
other electric guitars and got the feel for it, but this is my first electric guitar to be able to continuously practice on. In my opinion, this guitar played smoothly and easily. When bending a string, the note went straight to the key I was looking for. When playing a chord, the sound was nicely equal between bass and treble. And when I turned distortion on, the guitar didn't make that annoying fuzz sound in the
background.
In general, Fretlight Guitar has helped my skills tremendously excel to greater heights. I'm very excited to work with it more throughout the rest of the time that I have it. If you buy it, it beats buying guitar lessons any day because you get to have this program and guitar for the rest of your life. If you're a slow learner, then there's no need to worry about time when you're concentrating on your guitar skills. No matter what level you are, Fretlight Guitar can teach you something. I suggest this product to anyaspiring guitarist or non-guitarist that wishes to progress in their musical knowledge.
Conner here again. Having watched and listened as he used the program, I can say that it really helped alot. He was playing faster and better than I have ever seen him play. So the bottom line on this one is it's a good investment. Buy it and it will only make you better.
Fretlight Guitar, guitar, interactive, Learn, learning, lessons, music, Review, teach