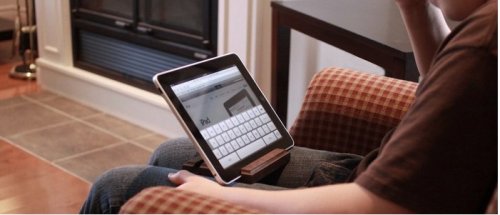 Another day, another accessory for the iPad. The latest is the GroovyStand Writer. This stand lets you place your iPad on your lap and even gives you two options for viewing.
There are 45 and 18 degree grooves that hold your iPad in either landscape or portrait mode. When not in use on your lap, you can just leave it around your home, keeping your iPad at the ready. The Writer comes in brown, natural, and black stained hardwood for just $14.95.

Or, since it's your lap we are talking about, you could just use your laptop.
Apple, GroovyStand, iPad, lap, Stand