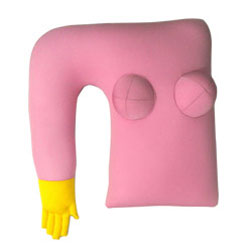 I have seen some weird things pop up for sale online, but typically, the major retailers like Sears stay away from anything that might be controversial typically. Sears has a new body pillow for sale that has boobs. The pillow is called the DeluxeComfort.com Girlfriend Body Pillow.
The pillow has a pair of boobs and an arm to wrap around your neck. I guess this would be perfect for the geek who has no girlfriend but wants to feel like they do. I am sure buying this pillow will mean you will never have a real girl though.
You can buy the pillow on Sears.com for a bit under $10. I'm honestly not sure if this thing is meant as a gag or if it's a serious product. It's seriously creepy and if you order one let us know so we can mock you openly.
pillow, weird