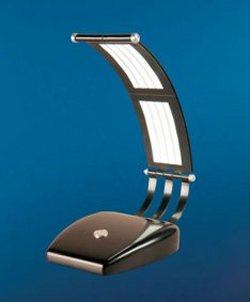 GE is showing off some lighting application ideas that have a lot of potential at Light + Building 2010 and LightFair 2010. At the shows, the company will be showcasing OLEDs in several configurations, focusing mainly on the flexible and ultra-thin form factor.
The flexible OLED materials can produce an energy efficient white light and have a low-carbon manufacturing footprint. The thinness allows it to be applied to many products. Like the cool desk lamp above for instance.

We can't wait to see what else they come up with.
flexible, GE, Konica, lighting panels in a table lamp, Minolta, OLED