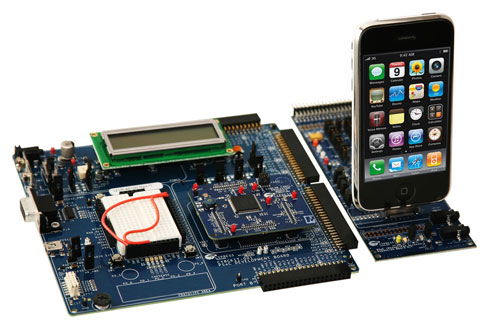 If you fancy yourself a developer of accessories for the iPhone or iPod touch, you need the new Cypress Cy8CKIT-023 PSoC Expansion Board Kit for iPhone and iPod. The dev kit promises to make developing new hardware accessories for the devices easier.
The kit is a PSoC that includes the PSoC development board, processor module board, MiniProng 3 debug and evaluation device, and a prototyping cable kit. The Dev kit sells for $249.
The kit is designed specifically to allow the user to develop hardware accessories like docks, speakers, and automotive gear for the iPhone and iPod. The device has a LCD for displaying metadata and support 2-way communication between the device and the dev kit.
Cypress, iPhone