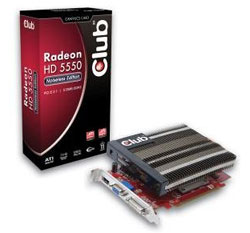 I have a high-end ATI video card in my work PC that I sometimes play video games on. The fan on the video card is very loud and some days it drives me crazy. I have been considering a passively cooled video card for a while now.
Club 3D has unveiled a new passively cooled video card called the ATI Radeon HD5550 Noiseless Edition. The card uses a massive heat sink and dual heat pipes for cooling. The video card has 512MB of GDDR3 RAM clocked at 800MHz.
The core clock on the GPU is 550MHz and memory bandwidth is 128-bit. The card has 320 stream processors and supports up to 2560 x 1600 resolution. The massive heat sink makes the card a two-slot design.
ATI, video card