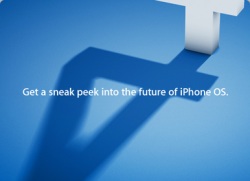 Right on the heels of the new iPad release, Apple has announced an event for later today to discuss the release of "the future of iPhone OS" and what will be coming in the iPhone OS 4.0. What new features will be available with the updated OS is anyone's guess at this point but as usual there is plenty of speculation leading up to the 10AM PST event.
If history is any teacher this announcement will be to set things up for a release later in the year, probably closer to the Apple Developers Conference, and Apple will use this opportunity to release features that it might not have in the past when it didn't have as much competition from things like Google's Android.
Some guesses around the 'net include multi-tasking applications on the device, more social networking, support for Flash (hopefully), and maybe even AT&T will let loose a little with some tethering between the iPhone and other devices.
Overall it's pretty hard to say what will really be announced today but we'll be watching later this morning and bring the scoop as it comes out.
Apple, iPhone, iPhone 4.0, iPhone OS