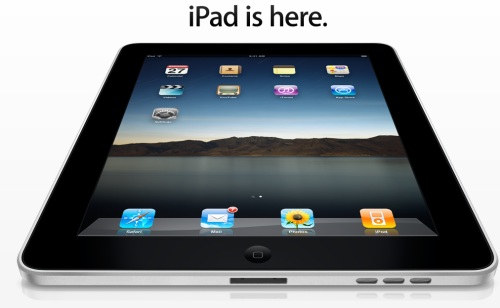 Apple launched it's new iPad tablet on Saturday, meeting long lines of individuals anxiously waiting, some for many hours, to purchase the new mobile device. The release of the iPad is the most anticipated product Apple has released since the iPhone launch in 2007, with almost as much hype surrounding it.
The iPads going on sale Saturday are the WiFi-only versions and are priced from $499 to $699 depending on the storage capacity desired, which ranges from 16GB to 64GB. Apple will release a 3G version of the iPad later in the month with prices ranging from $629 to $829, again depending on storage capacity.
The iPad devices are a small tablet-like device with a 9.7-inch touch screen (on screen keyboard) and they run an operating system very similar to the iPhone or iPod touch. They have the ability to download and play music and videos from Apple's iTunes library, read books e-books with Apple's new iBook application and use thousands of applications from the Apple App Store for the iPad.
I few things the iPad doesn't have that some might expect include a built-in video camera, USB ports and support to view Flash animation. A camera rules out any possibility of using the iPad as a mobile teleconferencing device, which would be cool.
Once the iPad 3G version is available, AT&T will be offering a no-contract unlimited service for just under $30 a month, or 250MB plan for $14.99/month. And of course there are already numerous accessories available for the iPad both from Apple and from third parties. Some of the more popular from Apple include a keyboard and dock combo, external camera kit and a carrying case/sleeve.
Apple, Apple iPad, iPad