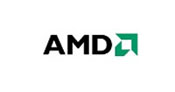 Q1 2010 has come and gone and financials for many tech companies are starting to come out. So far, Intel and Google have both posted strong financials for the quarter.
AMD has now offered up its financials and the company reports that it has had record Q1 revenue. Revenue for the quarter was $1.57 billion with net income of $257 million. Operating income was $182 million with a gross margin of $130 million.
Revenue in Q1 09 was $1.18 billion and AMD posted a $416 million loss that quarter. Gross margin for Q1 2010 was 43%. AMD thanks its new laptop platforms, server platforms, and DirectX 11 video cards for the strong quarter.
AMD, CPU