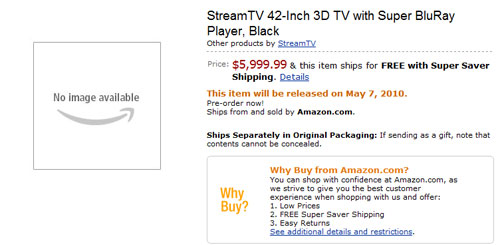 I really want to get a 3D TV in my living room, but before that happens I need to see some 3D content come to DirectTV. I am also waiting for the tech to get cheaper and hopefully lose the need for glasses to watch.
Amazon.com has a 3D TV up for pre-order from a company that I have never heard about and can't find any information about online called StreamTV. The TV is interesting, but even Amazon is very light on details for the set.
There are no pics and the description only tells us that it needs no glasses and has a built-in Blu-ray player. The set also has web surfing capability and a 500GB HDD. You can pre-order the 46-inch 3D TV for $5,999.99 with a ship date set for May 7.
3D TV, Amazon