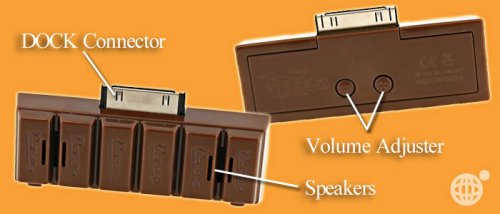 Who doesn't love chocolate? I do, you do. In fact, you probably don't have any chocolate right now because you ate it, since it's delicious and all. Why not add some chocolate to your iPod?
It won't melt, won't taste good, but it will deliver some delicious sounds from your music and remind you to buy more when you are at the store. Only $21. And now I'm hungry.

Sure it would be cheaper to stick a speaker in some real chocolate, but that's just way too messy and you wouldn't be able to do it without eating it. Might as well just spend the money.
chocolate, iPod, speaker