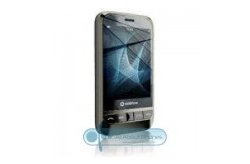 Vodafone's 845 Android phone has just leaked online. We know that it will be affordable and it might ship with Vodafone 360 social networking support. The budget Android-powered smartphone is scheduled to hit the market in May sometime.
Some features include a 2.8″ QVGA display, 3G and Wi-Fi, GPS navigation support, a 3.2-megapixel camera and Bluetooth. It's looking like the Vodafone 845 will be €150 on pay as you go at launch.

Any interest in this one?
845, Android, phone, Vodafone