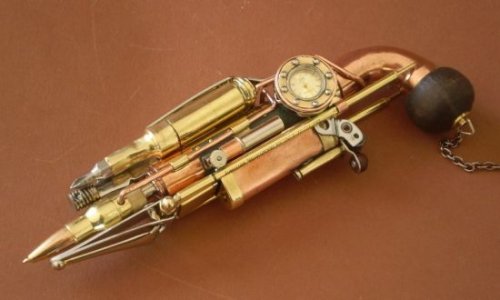 Looking for some multi-function in your Steampunk gun? Then this one is for you? It's basically a Steampunk Swiss-Army Knife. This steampunk metapen gun is almost as small as the world's smallest gun as well. It's made from all the usual materials, brass ,copper, wood and steel.
And it does more than just shoot Victorian-clad villains dead. There's a fork, knife, spoon, lighter, USB drive, watch, lamp, screwdriver, pipe, toothbrush, sawing blade, nail clipper and two extra mines. Pretty awesome.

If James Bond went steampunk, this is what Q would send him out into the field with.
gun, steampunk, swiss army knife, weapon