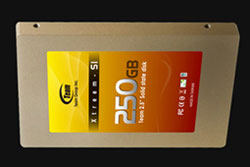 CeBIT is a show that is much more focused on computer hardware and other items than CES is. CeBIT kicked off today in Germany and among the new PC hardware being shown off is the Team Xtreem-S1 SSD.
The SSD uses a Sandforce processor for performance and promises up to 270MB/s read speed and write speed of 260MB/s. The SSD uses the SATA II 3Gb/sec interface and supports Windows 7 Trim function.
Other features include SMART support, AES 128-bit encryption capability, and three storage capacities. The SSD can be had in 60GB, 120GB, and 250GB capacities. Pricing and availability are unknown.
CeBIT 2010, SSD, Storage