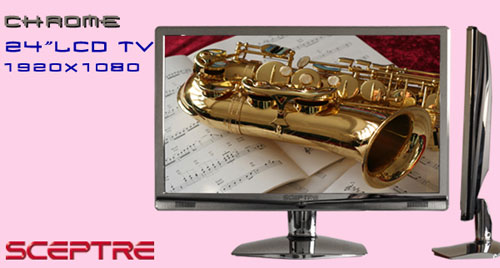 Sceptre has been making computer displays and other gear for a while now. The company has TVs in colors that you don't often see from other makers. The latest offering from Sceptre is a 24-inch HDTV that is covered in shiny chrome.
The set has a 24-inch screen and supports full 1080p resolution. The screen can be used with a PC too supporting resolutions up to 1920 x 1080. Contrast is 4000:1 and the screen has a brightness rating of 300 cd/m2 and a panel response time of 2ms.
Other features include a detachable neck and base. Connectivity includes USB input, two HDMI ports, composite, component, DVI and VGA. The TV has ATSC and NTSC tuners built-in as well.
display, HDTV