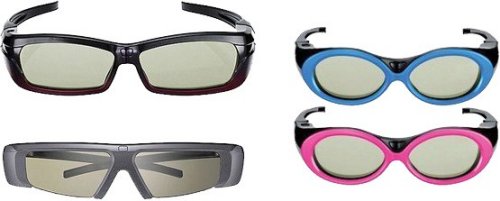 They won't make you look like a fashion plate and so will probably show up on What Not To Wear, but Samsung has some new 3D specs for you. Starting at the lower lower-left and going clockwise, there is the $149.99 SSG-2100AB, $199.99 SSG-2200AR, and pink and blue $179.99 SSG-2200KR.
Those last two feature rechargeable batteries. The good news is that all are up for pre-order on Amazon, however with no release date announced yet.

You'll be watching 3D in no time, looking like a nerd.
3D glasses, Amazon, pre-order, Samsung