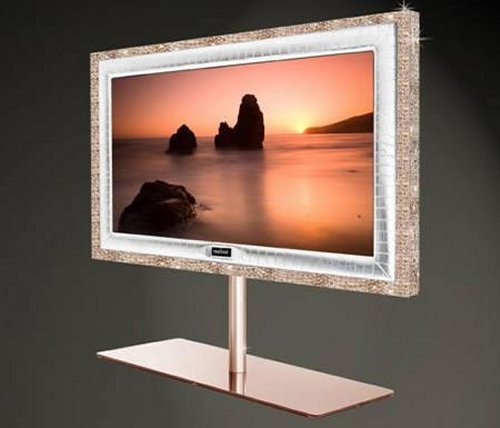 Looking for something decadent to put in your summer cottage in Monaco? No plain old TV will do, I know. You need something to match your blinged out iPod. Well, here's a good TV to blow your money on. Stuart Hughes has announced the world's most expensive Televisions. They are powered by Metz and manufactured by PrestigeHD.
The pricier of the two is the PrestigeHD Supreme Rose Edition. For £1.5 million ($2,250,000), the 55" screen is encased with 28 kilograms of solid 18ct rose gold. The frame has 72 brilliant round cut 1ct IF flawless diamonds along with Sunstone and Amethyst. Alligator skin is even hand sewn on the inner screen layer.

The second version is the PrestigeHD Supreme Edition. Priced at £1million ($1,500,000). There's less gold and diamonds.
diamonds, gold, PrestigeHD, Supreme Rose, Television, World's most expensive