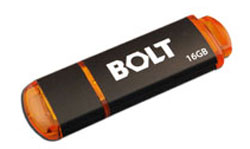 When it comes to keeping data on a flash drive that is small and easily lost your best bet is to encrypt the data. This is particularly important if the data is sensitive or personal. Patriot has a new flash drive called the Bolt that will protect whatever data you want to put on the thing.
The bolt is in a rugged aluminum enclosure and comes in capacities from 4GB to 64GB. The drive has read speed of 30MB/s and a write speed of 12MB/sec. The data is protected with 256-bit AES encryption.
User authentication features a 512/2048-bit RSA engine. The drive can also be set up to delete data on the drive after ten failed logon attempts. The Bolt line is available now at Patriot retailers and online.
flash drive, Patriot