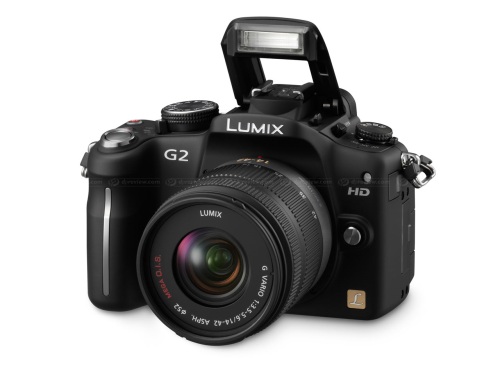 Panasonic announced on Sunday two new Micro Four-Thirds cameras, the Lumix DMC-G2 and a less expensive Lumix G10. Both cameras are in Panasonic's line of "smaller" digital cameras in comparison to D-SLR's, going without a mirror box or a dedicated autofocus image sensor.
The DMC-G2 appears to be a successor to the DMC-G1 announced in late 2008 with some added features. The Lumix DMC-G2 still has a 12.1 megapixel sensor, movable LCD screen, is similar in size and has a rubber-coated body like its predecessor, but in this version has added in a touch screen and high-def video capture. According to Panasonic this marks the …"first interchangeable lens system camera with touch-control shooting."
High-definition video can be shot in 720p30 in motion JPEG or in the lighter-weight AVCHD Lite codec and can be played back directly from the camera to a high-def TV through an optional HDMI cable.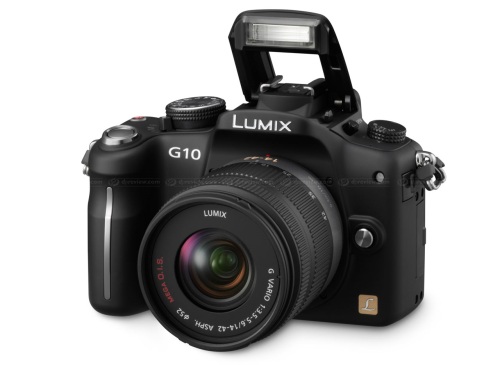 The Lumix G10 is likely going to be Panasonic's least expensive Micro Four-Thirds camera and is very similar in size and features to the DMC-G2 but leaves out a few of the nicer features. The G10 will not have a movable LCD, nor will it be a touch-screen. It will be able to record high-def video but only to the motion JPEG codec, not the lighter AVCHD Lite.
Panasonic did not provide an exact release date or pricing for the new Lumix cameras at this time, but it's likely that they would be released sometime later this spring or early summer.
camera, Cameras, Digital Cameras, DMC-G2, Lumix, Micro Four Thirds, Panasonic