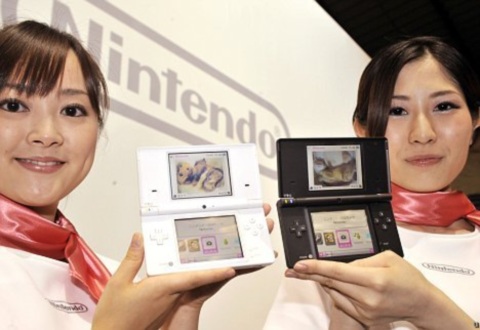 Nintendo Japan announced that they will be unveiling a new 3D version of the Nintendo DS at E3 2010 in June, called the Nintendo 3DS. We've found some more details in addition to it being a glasses-free 3D device and backwards-compatible with your DS DSi games.
These are rumors mind you and we probably won't know for sure until the unveiling in June. There's talk that the 3DS could have a number of additional features giving new dimensions to the gaming possibilities on the device. These include an accelerometer allowing it to sense tilting and motion, a higher-resolution LCD screen from Sharp, and possibly both the top and bottom displays working together as a single display.
More very possible and cool features might include a 3G wireless connection for downloading games and who knows, maybe even ebooks. It's also expected to have dual cameras like the current DSi, 3D control sticks and vibration like the Wii controller.
It's very interesting that Nintendo would promote such a small device with 3D capabilities, going so far as to name it the Nintendo 3DS. How much 3-dimensional reality really be put into a screen this small is hard to say. We're wondering how much truth there is to these rumors or if this is some gimmicky thing that Nintendo has come up with? Either way we'll have trouble waiting until June to find out.
3D, 3DS, DS, DSi, Nintendo, Nintendo 3DS