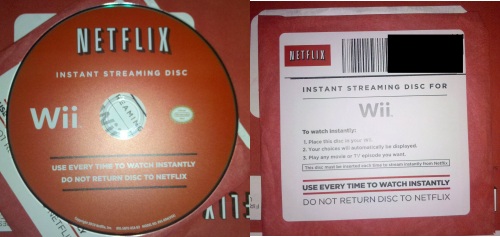 Netflix instant streaming discs for the Nintendo Wii started arriving in homes today to the delight of many Wii console owners. The service allows Wii owners who subscribe to at least the minimum $9/month plan with Netflix, to watch select streaming movies and television shows direct to their televisions.
Netflix subscribers keep the disc and must have it inserted in the console any time they would like to watch streaming content, while movies sent through mail will continue as they have in the past. Once the disc is inserted and selected from the Wii home menu, an activation code is presented. Users must enter this code on the Netflix website as a one-time activation to enable the streaming service.
The Nintendo Wii is the last of the big three game consoles to receive the instant streaming service as it's been available through the PS3 and Xbox for some time now. Netflix has their instant streaming service available through a number of other devices as well, including the Roku digital player, TiVo and a number of Blu-ray, television and home theater manufactures.
Netflix, Nintendo, streaming video, Wii