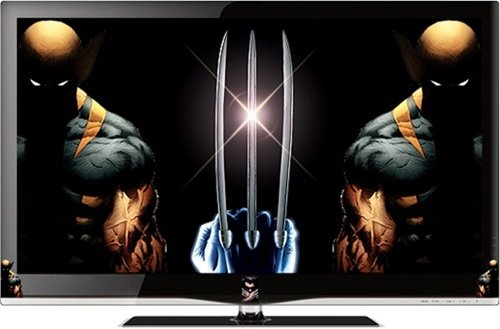 Marvel has partnered with RTC23 to release "the ultimate comic fan's TV". C'mon, you know you've been waiting for a TV branded with Superhero images. The 22, 32, 42 and 55-inch LCDs/40 and 46-inch LED HDTVs feature Iron Man, Captain America, The Hulk, Wolverine, Thor and other characters on the bottom corners of the frame as well as on a themed splash screen that appears for 8 seconds when you turn on the TV.
Even if you love Marvel Comics, it's bound to get old staring at the same images though. The smaller LCD sets start out at 720p with a 60Hz refresh rate, 8000:1 dynamic and 3000:1 native contrast with 1 HDMI output and top out at 1080p with 240Hz refresh, 80,000:1 dynamic and 4000:1 native contrast, and 4 HDMI inputs. Prices range from $339 to $1989.

Both the 40 and 46-inch LED sets feature 1080p resolution, 3,000,000:1 dynamic and 5000:1 static contrast, 450 nit brightness and 4 HDMI inputs. Prices are from $1699 to $1989. Are your Spidey senses tingling?
Captain America, HDTV, Iron Man, LCD, LED, Marvel Comics, Superhero, The Hulk, Thor, wolverine