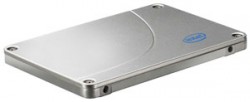 The price of SSDs are starting to come down where many computer users might be considering buying one. You can now get a few low capacity SSDs for around $100. The catch to these cheap SSDs is that they don't offer much storage making them really only useful for boot drives.
Intel has unveiled its new X25-V SSD with 40GB of storage space. The SSD sells for $125 in quantities of 1000 and is aimed at notebooks, netbooks, and desktop computers looking for a fast boot drive for the OS and critical applications.
Obviously, in most system you will want to pair the 40GB SSD with a high capacity normal HDD. I think a 40GB boot drive and a 2TB mass storage drive would be great for most of us.
Intel, SSD, Storage