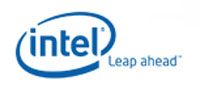 Intel has pulled the wraps off many new technologies over the years. The world's largest processor maker today unveiled its latest Xeon processors calling the new parts the most secure ever. The new Xeon 5600 series includes multiple CPU models.
Intel says the key to the secure nature of the CPUs is the new Intel Advanced Encryption Standards New Instructions and Intel Trusted Execution Technology. This tech works together to make encryption and decryption faster and more secure.
The new line of processors use 32nm technology and promise 60% more performance than the 45nm Xeon 5500 series processors. CPUs in the new series include a four-core part with a 130W TDP operating at 3.46GHz and a six-core version at 3.33GHz with a 130W TDP. Prices will range from $387 to $1663 in 1000 unit quantities.
CPU, Intel, Xeon