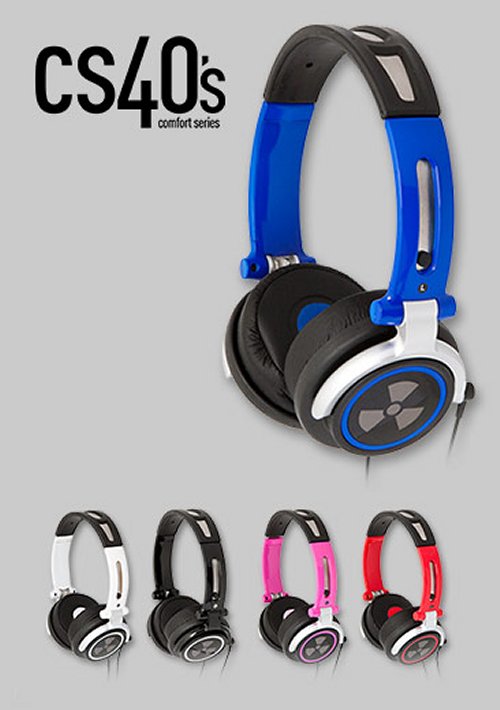 iFrogz sent us a pair of their new EarPollution CS40 headphones for review. They come in several stylish colors and actually look pretty nice compared to what's out there on the headphones market, so we were eager to give them a go and see if they are worth the $39.99 price.
The CS40 claims to offer "cranium busting sound with supreme comfort" and they have a high gloss finish with black dura-strength rubber cups and headband. They also promise light-weight and high quality.

They sent us the blue pair and right away we loved the look. The high gloss blue looks like the sort of color you would find on a classic car and just plain looks great.
As far as sound, I'm not a super huge audiophile, but I've used enough pairs of headphones to know quality when I hear it. In the sound department, these headphones really blew me away. The quality is super clear and crisp and delivers a great bass sound. I've heard better, but not from a $39.99 pair of headphones. That's the case with our review pair anyway. I would pay at least twice the asking price for the sound they deliver.
They are also touting comfort as a big plus with the CS40. Honestly I wasn't expecting much in the comfort area, because I have never found a pair of headphones that are comfortable. Even the ones that are, start to hurt your ears after a few hours.
But just like with the sound, these headphones will surprise you in a good way. The rubber cups sink into your ears like you sink into an ultra soft chair more or less. They are super soft and for once I was able to wear headphones and actually forget that I was wearing them. The headband, which is usually a bother with most headphones is the same way.
Even the entire length of the cord is made of a soft rubbery material which seems to help it not get in your way as much and it seems like it will help give it a longer life.
Only one bad thing to say. The plastic packaging is minimal, but still a pain. You have to attack it savagely with a knife.
For once these headphones were a real pleasure to review and iFrogz have hit a home run with this design as far as I'm concerned.
CS40, EarPollution, Hands on, Headphones, iFrogz, Review