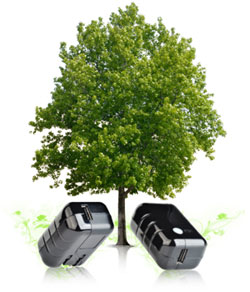 The power used by devices that we think are turned off goes by several names. Some call it parasitic power, some call it vampire power, and others call it phantom power. In the end, they are all the same and describe electricity consumed by devices when they are not in use.
AT&T has a new green charger coming in May called the Zero Charger that will stop phantom power use at a place most of us don't even think about it — your cell phone charger. AT&T says that most chargers draw power from the outlet even when a phone isn't attached.
That means that enough power is wasted each year to power 24,000 homes. The Zero Charge uses tech to disconnect the AC power when a phone isn't connected to it. The charger will sell for about the same price as a replacement charger today and will be usable on future handsets as well.
AT&T, charger