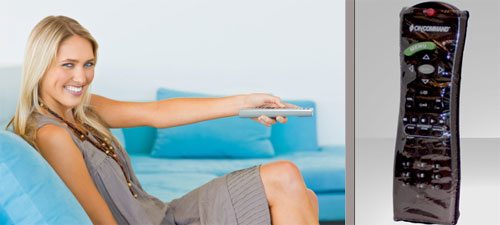 Any parent will tell you that with kids around you are going to end up cleaning goo off the strangest places. I have had to clean peanut butter off the back of the refrigerator (don't ask) and have spent more time than I care to talk about with a tooth pick and a paper towel trying to get chocolate out of the crevices of my Harmony One remote control.
A company called Gluvi has a new sanitary solution for remote controls that looks to me like a condom for your remote. The thing has an open end and slips over the remote to protect the keys from germs. I bet it works pretty well for keeping chocolate fingers away too.
I will say the Gluvi solution isn't pretty. It doesn't fit very tightly and is very glossy looking. Gluvi aims the solution at hotels, but I can't see why you couldn't use it in your home too, assuming you don't mind some weird looks from your friends.
Home Theater, remote control