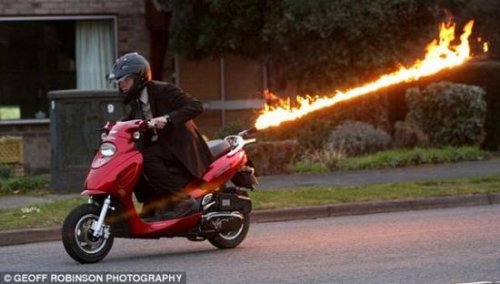 These idiots who love to tailgate are so annoying. If only there was a way to back them up. Over in England, Colin Fruze has found a way to keep drivers at bay. The solution was simple and elegant. A flamethrower built into the tail of his scooter.
Anyone who dares to drive too close is flame broiled. At first, the flamethrower was installed on his BMX bike, but now it's activated with the simple touch of a button on his scooter. The flames shoot out 12 feet behind the vehicle.

And no, it is not legal of course. But it sure will back drivers away from you.
DIY, fire, flamethrower, Flamethrowing, mod, scooter, tailgaters