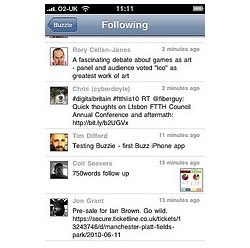 Buzzie, the first iPhone app aimed at users of Google's new social networking tool Google Buzz is now in the iTunes App store. The app allows non-Buzz users to tune into Buzz conversations in their local area without logging into the service.
Once logged in, you can start conversations, or join in with your followers. You can also mark your Buzz as private or public and decide whether you want to publish your location, which is selected using the iPhone's GPS.

If you spot someone new having a conversation with someone you follow, you can grab their details, like who they are following and a chronological list of their Buzzes. If you want to follow them, you can, with a single click.
app, buzzie, Google Buzz, iPhone