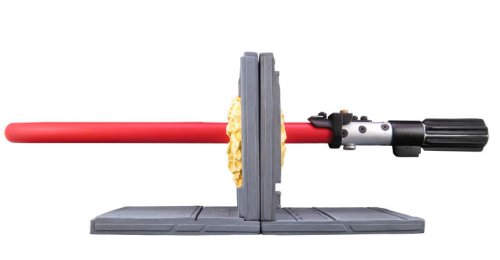 Vader doesn't like books. When faced with a shelf full of books, he's been known to violently stab them with his lightsaber. If you feel the same way as I do about the Star Wars prequels, these bookends would be the perfect place for any prequel-related books and movies as they will be stabbed with a lightsaber and left on the shelf.
The light saber is illuminated from the inside, powered by batteries. It's priced at $49.95 and worth every penny.

Of course it won't hold a ton of books on a small shelf, due to that long lightsaber sticking out.
bookends, books, darth vader, lightsaber, Star Wars