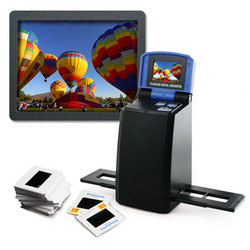 Digital cameras are great things and even older folks like my parents are getting into taking digital photos today. My mom has a ton of photos from when I was a kid that she wants in digital format for her digital frame.
If the negatives are available from the old pictures, you can turn them into digital prints with 5MP resolution using the 35MM Slide Scanner from firstSTREET. The device needs no computer to scan the photos.
It has a 2.4-inch LCD to show what the scanned image looks like and has 32MB of internal storage. A microSD card slot lets the user increase storage up to 16GB. The scanner is available now for $129.99.
Digital Photos, scanner