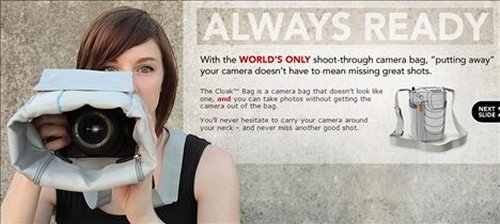 You've probably missed out on some good shots because it takes you too long to pull your DSLR camera out of the camera bag. By the time you do, the moment has passed. The Cloak Bag might just help you get your shot. It's the "world's first and only shoot-through camera bag".
When it's time to take a picture, just unzip the bottom of the bag, and roll it up. This lets you quickly take pictures with the camera, while still protecting the camera body. There are also slits on the side of the bag, so you can grip the camera and use the shutter button easily and the top of the bag flips open for viewfinder and control access.

The Cloak Bag costs $49. Is it worth it?
bag, camera, Cloak Bag, DSLR, pictures