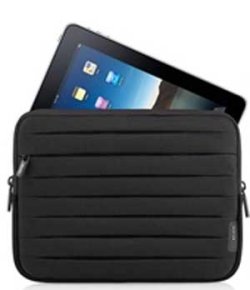 The iPad is almost here and we've only scratched the surface of accessories that will be available for the device. Belkin is ready for it with some accessories of their own, like the Max Sleeve. You can pre-order yours now for $39.99.
The Max Sleeve sports a special pleated design that can be expanded, so that it will carry your iPad and a bunch of other accessories. When it is just the iPad it will stay slim, but when you need to store other stuff it will do the job with no problems.

Comes in perfect plum, violet mist, black and white colors.
Apple, Belkin, case, iPad, Max Sleeve