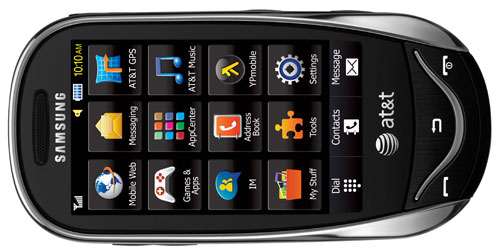 When it comes time to look for a phone on AT&T, most geeks are going to go for the iPhone. There are some folks out there that want a cheaper device on the AT&T network and the carrier has a couple new handsets coming soon.
The new devices include the Samsung Sunburst sporting a 3-inch touchscreen with onscreen keyboard. The handset also has a 2MP camera/camcorder and supports multiple messaging options. Bluetooth is included and the device supports premium AT&T services.
The Samsung Strive is also coming and it is a slider phone with a QWERTY keyboard. The device has a 2MP camera/camcorder, and supports email along with multiple messaging options. The Sunburst will sell for $39.99 after rebate and new contract with the Strive going for $19.99. Both devices will launch on March 21.
AT&T, Samsung