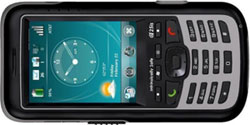 Folks that work in harsh environment like fire fighters, field workers and oil field workers need a device that is strong enough to survive life in the field. Drop your iPhone and the thing is probably dead. Rugged phones however, can withstand drops and tumbles.
AT&T has added a new phone to its line for users needing a rugged handset called the Airo Wireless A25is. The device meets MIL-SPEC 810-F/G. It can survive repeated drops form as high as 50-inches, up to 95% humidity, and harsh vibrations for up to 1000 miles.
The device is also waterproof for 30 minutes in up to 5 feet of water. The handset has a 2.8-inch touchscreen, GPS, QWERTY onscreen keyboard, PTT, and more. The device is available right now on the AT&T network.
AT&T, phone, rugged