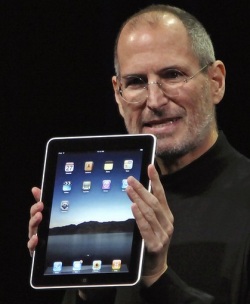 While the tech world is anxiously awaiting the launch of Apple's iPad, a number questions still looming around the exact details of the device and its functionality. One of those questions which was queried directly to Steve Jobs himself was answered today, apparently by Steve Jobs himself.
The Swedish site Slashat.se reports they had sent a question directly to Apple's CEO asking if the WiFi version of the iPad will support tethering to the iPhone, allowing 3G data access to the iPad. To this the answer came back simply as: "No. Sent from my iPhone."
The iPad is expected to be released in two versions. One is WiFi only without 3G data access, and the other is a WiFi and 3G model available contract-free from AT&T. Allowing tethering from an iPhone would allow WiFi only iPads to access the internet through the iPhone's 3G connection, negating a second data plan with the carrier.
While most might be a little skeptical that Steve Jobs is receiving and replying to emails directly from anyone and everyone, this restriction seems to go along with Apple's general MO. We're going along with this one today and assume that there will be no iPad-iPhone tethering with the iPad launch next month.
Apple, iPad, iPhone, News, Steve Jobs, tethering