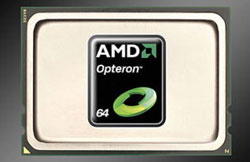 AMD has been offering Opteron processor for a while now that have six cores inside. The company has now announced that it has new Opteron 6000 series processors available that have 8-cores and 12-cores.
The new processors are aimed at the server environment and will be offered in servers from HP, Dell, Acer, Cray, and SGI. AMD says that the new processors offer twice the performance of the previous generation 6-core processors.
AMD promises 88% more integer performance and 119% more floating point performance than previous generation processors. The CPU has four DDR3 memory channels and a 50% higher DIMM capacity. AMD also uses features to increase the power efficiency and stability of the processors.
AMD, CPU