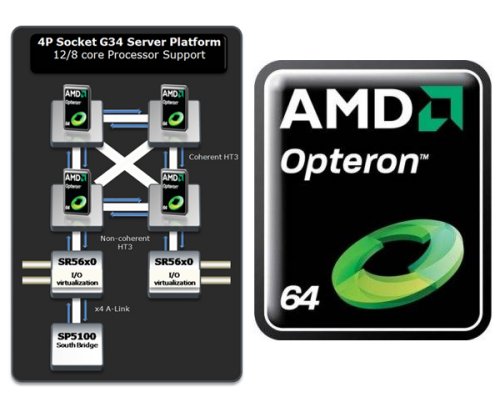 AMD has launched their latest counter attack against Intel with the Opteron 6000 8 & 12 core chips. This comes just a day before Intel unveils its 8 core Nehalem EX Xeon processors that are designed for four-socket servers.
Manufacturers like Acer, Hewlett-Packard, Dell, Cray, SGI and Appro are just a few of the companies that are unveiling new or upgraded systems using AMD's new Opteron 6000 8 & 12 core chips. The Opteron 6000 processor series perform at up to two times the level of AMD's previous generation of 6 core processors, with an 88% increase in integer performance and a 119% increase in floating point performance.

AMD also have enhanced integrated memory controllers supporting four channels of DDR3 memory improving memory bandwidth by 2.5 times.
12 Core Processors, AMD, Opteron 6000