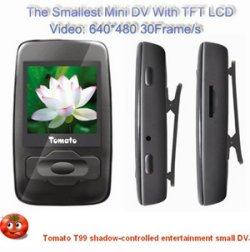 The oddly named Tomato T99 is neither red, nor in the fruits and vegetables section of your local supermarket. But it is an interesting device that features digital video recording along with a 1.3-megapixel camera which allows you to use it as a monitoring or spy tool.
It also sports shadow-control to save battery life, where it shuts down the camera automatically when it doesn't detect anyone there. It's a feature that will save valuable storage space as well, so that you get all of the important moments that you do want.

Recording resolution is probably standard definition and with just 2GB of internal memory, you'll be glad that they throw in a memory card slot so you can add another 16GB.
Mini DVR, MP4 player, T99, tomato