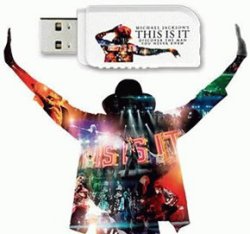 Michael Jackson's death sure has done wonders for getting "This is it" either on or in gadgets. Here's another.
This flash drive from Kingston will give you just 2 GB of memory, which is occupied by a pre-loaded copy of the movie "This is it". It also comes with Windows Media Player 11. The Kingston drive will cost you $20 and is branded with the movie's logo.

I'm sure we will see even more like this.
flash drive, Kingston, Michael Jackson, This is it, USB