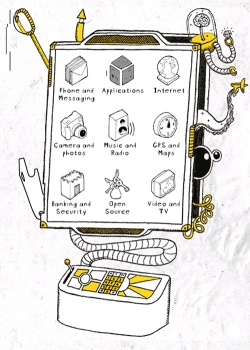 Symbian, the world's most popular smartphone operating system, has announced that it's going open source about four months ahead of schedule. This move will allow more software developers to have access to develop applications and mobile devices based on the operating system.
The plan was to complete the transition of putting the OS under the Eclipse development license and work out deals with existing third party developers by later this summer. Symbian was able to move ahead more quickly, most likely to try and keep an edge on the newer open-source Android mobile operating system from Google.
The Symbian OS is currently running on more than 330 million mobile phones around the world and has been the operating system of choice for many of Nokia's mobile handsets. Ovum reported that Symbian had about 48 percent of the market share of smartphones in 2009. This popularity along with the OS now being open source makes the platform very attractive to those looking to get their product into the hands of as many mobile phone users as possible.
Symbian already has an online application store called Symbian Horizon with free and paid applications, along with featured applications and features developers. Application developers interested in creating their own app for Symbian can visit the developer page and create apps in C++, Java, Flash, HTML, Python, Ruby and even .NET.
handsets, Mobile OS, open source, Symbian